What is your experience with catering?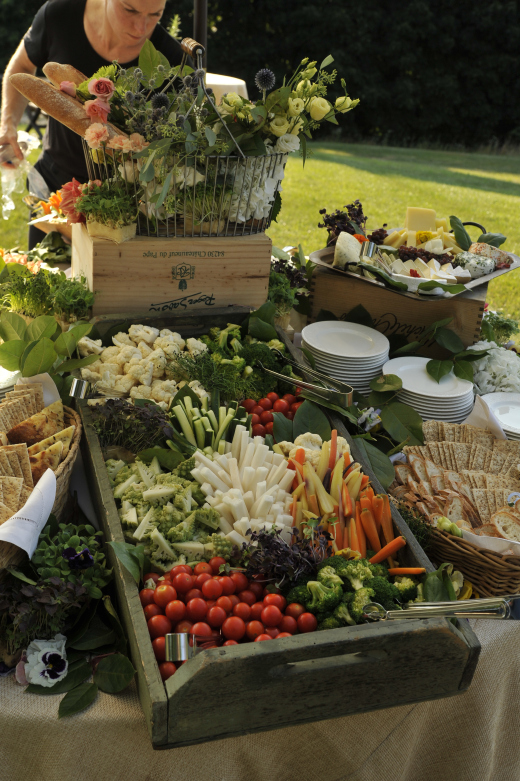 We are a husband and wife team that has been cooking together for almost 30 years. We decided over 10 years ago to share our love for food and hosting and that is where the dream for Simply Savory began.
In 2022 so far, we have catered over 150 events including weddings, birthday parties, Anniversaries, corporate functions, fundraisers and celebrations of life.
• What do you provide with your catering service?
Friendly, professional serving staff, an on-site Chef, buffet equipment including chafers, spoons, tongs, serving platters. We do not include tableware, buffet tables or linens.
We are very decor orientated and pride ourselves on the extra touches we offer – beautiful water stations, coffee stations, high-end buffet and serving dishes.
• Do you have a sustainability plan?
We feel strongly that being a sustainable business is important. We support local as much as possible which includes farms, produce, meats, cheese, eggs and bakeries. We also recycle everything we can and our green waste is composted.
Is the meal cooked on site?
In most cases yes, we have a full mobile kitchen set up but will use our discretion based on the venue we are at. We can cater on private property with access to three 120V electrical outlets and running water.
• Do you have insurance and are you licensed?
We are fully insured and licensed.
• I know what I want, is that okay?
Knowing what you want makes our job easier! We love working with our clients to make what you dream of into reality. We can offer some flexibility, can adjust the menu to your liking so it is unique to your event, party or occasion. Let us know what you have in mind and we can look at the possibilities.
• How do you serve the food?
We usually serve your meal buffet style but if you wish to speak to Carrie about something special or your particular style, give her a call at 604-217-1552!
• What are your payment terms?
There is a deposit of $500.00 required to secure a specific date. We accept e-transfer, cheques, cash, Visa, Mastercard.
One month prior to the event the full remaining amount owing is payable. We also work with you to estimate the correct amount based on the number of guests expected and can make adjustments as the date gets closer. One month before we will create a best guess estimate and that is the amount that will need to be paid.
• Do you charge gratuities?
Yes we add a 18% gratuity to our invoices for our catering service.
• What is your cancellation policy?
If you need to cancel our services after booking with us, the deposit is non-refundable.
• What happens with the leftovers?
As per Fraser Health Regulations and our Insurance policy we cannot leave any leftover food.